Fleer's 1960 & 1961 baseball card issues were not huge successes. They were baseball card sets of old-timers like Babe Ruth & Lou Gehrig ... but kids voted a big NO ! They wanted Willie Mays & Mickey Mantle. Fleer had to try something new ... COOKIES !!! Topps had exclusive rights to baseball cards with gum so Fleer packed cherry flavored cookies with their 1963 baseball cards.

The 1963 Fleer baseball card set planned to be larger but Topps lawsuit cut it short leaving just 66 cards plus a checklist.

But what 66 cards !!! 1963 Fleer cards are attractive & packed: also Roberto Clemente, Sandy Koufax ... plus 2 very scare Short Prints.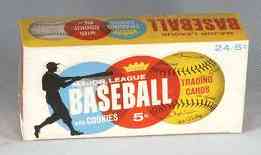 Maury Wills' Rookie card is an interesting story. In the majors since 1959, quickly became a superstar. So why 1963 for his rookie ??? Well, back in 1959 Topps deemed Wills NOT WORTHY enough to be on their baseball cards.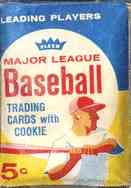 Wills was upset at the slight from Topps. After his 1962 MVP, Topps came a knocking but he said "NO !". No Topps cards ! Finally, in 1967 came a very scarce hi# Topps card, his first Topps and also most costly card. Adding interest, he had a 1961 Post Cereal card, years BEFORE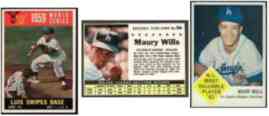 his 'official' rookie. He also photo-bombed a 1960 Topps World Series card, trying to tag Luis Aparicio at 2nd.

Disclaimer: Above mostly true - but Wills has said, no feud, simply exclusive agreements.


Click for complete