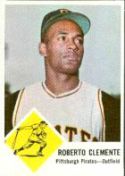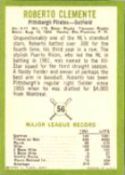 1963 Fleer Baseball
In 1960 & 1961 Fleer produced baseball card sets of old-timers like Ruth,Gehrig & Cobb, ... but kids weren't impressed. They wanted current stars. Fleer had to try something new ... COOKIES !!! In an attempt by Fleer to circumvent Topps exclusive rights to baseball cards, they issued their 1963 baseball cards with cherry flavored cookies instead of gum.

The 1963 Fleer baseball card issue was most likely intended to be a much larger set issued in multiple series but Topps sued Fleer after the first series was released stopping further production. Due to Topps deep pockets Fleer soon pulled the set from the market leaving this very popular set at just 66 cards plus an unnumbered checklist.

But what a 66 cards!!! The 1963 Fleer cards are attractive and feature an extremely high percentage of stars led by Willie Mays, Roberto Clemente & Sandy Koufax along with 2 very scare Short Prints: Joe Adcock and the checklist.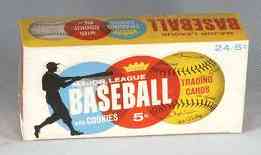 The most interesting card in this set is the Maury Wills Rookie card. Even though Wills started his major league career with the Dodgers way back in 1959 quickly becoming a superstar, his 1963 Fleer card is considered his rookie ! How is this possible ? Well, back in 1959, 1960 and 1961, Topps did not consider Wills worthy enough to have a baseball card.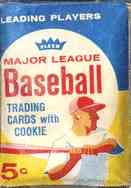 As hobby lore has it: Wills was quite upset at this slight from Topps. After Wills won the 1962 N.L. MVP award, Topps quickly came a knocking but Wills said "NO THANKS!". From 1961 thru 1966, Wills prevented Topps from making his cards. Wills and Topps finally made up making his 1967 Topps high number short print his first Topps card and also his most expensive card. Adding interest to the Wills baseball card story, Post Cereal released a Maury Wills card in their 1961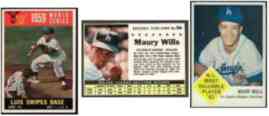 set making that an earlier Maury Wills rookie. Wills was also pictured on a 1960 Topps card featuring the 1959 World Series. That card featured Luis Aparicio stealing 2nd base with Wills pictured trying to make the tag.
Much of the above is true but Wills has said there was no "feud" with Topps and that he simply had signed exclusive agreements with Fleer.
Click for complete 1963 Fleer baseball cards Checklist and Prices
Note: You may be on that page right now.