1974 Topps Stamps set had (240) 1x1-1/2 inch stamps, 10/team. Issued in 12-stamp panels in diff. combos of rows for 24 DIFFERENT panels in a complete 1974 Topps Stamps PANEL set.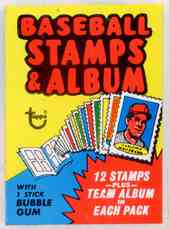 NOTE: Your favorite may be on 2 different panels !!!
Set suffers from HORRIBLE centering and bad perforations. 1969/1974 Topps stamps are very similar except: 1974's oval vs 1969's banner.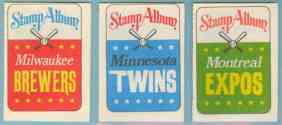 1974 Topps Mini-Albums - seen - perhaps not released.

PACKED! Ryan, Aaron, Bench... With Pete Rose and seldom seen Winfield & Parker rookies.


Click for complete info and listings: