1970/1972/1973 Topps Candy Lids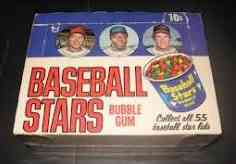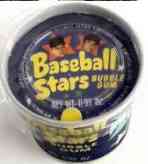 Thru the years, Topps has tried some crazy products, often called "test issues". Test issues were usually only distributed in limited areas and were somewhat difficult to find. One of Topps most unusual were the 1970 and 1973 Topps Candy Lids; little tubs of candy with player's photos on the bottom of their 1 7/8" lids. The unnumbered lids were issued in 10 cent containers, 24 to a box. Sealed tubs can still be found with asking prices in the $150 to $200 range. Called "Baseball Stars Bubble Gum", the 1970 Topps Candy Lids set had 24 different players, the 1973 Topps Candy Lids set had 55.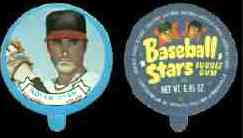 Topps released their first Candy Lids in 1970. The 1970 Topps Candy Lids are very, very hard to find. The 1970 lids had small photos of Tom Seaver, Carl Yastrzemski and Frank Howard on the top.
They returned in 1973 with some minor changes. The candy was replaced by gum, the mini photo of Frank Howard was gone from the top of the lid and team logos were airburshed off the player's caps. Even the tiny Yaz and Seaver photos had their logos removed. 1973 Topps Candy Lids are hard to find, but not nearly as scarce as the 1970's. There was also a 1972 Topps Candy Lids issue in the works but it was never released although a very few proofs do exist.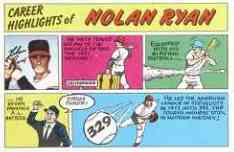 Topps released two other test issue sets in 1973 (1973 Topps Pinups and 1973 Topps Comics), each with very limited distribution. The 1973 Topps Comics and 1973 Topps Candy Lids shared many of the same photos. Just like the candy lids, those sets had no team logos. If you're thinking "licensing dispute", you are likely right. Topps received player's union's permission for these test issues, but not Major League Baseball's permission. Apparently issues over rights and fees with Major League Baseball Properties and the player's union resulted in Topps shutting down future production of test issues, supplemental sets and insert sets, putting an end to some of their most "fun" collectibles.
Due to licensing issues, after 1973 Topps released very few "oddball" issues. In 1975 did release a "Minis" set but they reportedly cut production on the regular set to produce the minis, so the players and owners probably got nothing extra. Topps next major test issue was the 1977 Topps Cloth Stickers. Afterwards Topps started producing sets for other distributors like Burger King, Zest Soap and others having the distributors cut the licensing deals, saving them the aggravation.