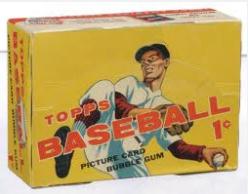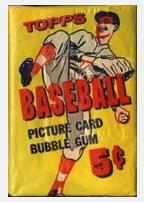 I have a fondness for the 1956 Topps issue. When I first started collecting back in 1964, my friends and I would wander nearby neighborhoods in search of "old cards". Back then, the oldest cards we ever found in dealing with other kids were 1957 Topps.
Eventually I saw my first 1956 Topps card - I was hooked. It was larger, on a thicker, fluffier card stock making it look much, much older compared to 1957 than just 1 year. We thought they looked "ancient" !!!
I changed neighborhoods in 1966 leaving my childhood friends behind. Before I left, I gave away all my cards except for a small cigar box full of my favorites - and I stopped collecting. I had a great 3 year run but I sure wish I would have been collecting in 1966 and 1967 with those tough high numbers. I would have loved to have had a cigar box full of them in place of my hoard of 1964 Topps Felix Mantilla and Gary Peters cards.
The regular 1956 Topps baseball card set is one of my favorites. Topps again went with a slightly larger (3-3/4" by 2 5/8") horizontal card design, similar to their 1955 Topps cards. Several of the portraits are even the same used on 1955 Topps cards some even back to 1954 Topps.
1956 Topps was the first issue to feature team cards and checklists. In addition Topps also included cards of the 2 league presidents, William Harridge and Warren Giles.
With Bowman now gone, Topps could again make cards of Mickey Mantle who was missing from Topps issues since 1953. Once you get past Mickey Mantle, this is a fun and relatively simple set to complete as there are no high numbers or extremely expensive rookie cards with Hall-of-Famer Luis Aparicio being the top rookie.
The set contains over 200 variations making things quite interesting for master set collectors. Most variations deal with the card stock (gray and white card back variations).
Cards #1-100 gray backs are scarcer with a slight premium
Cards #101-180 white backs are much scarcer with a larger premium
... rumor has it gray outnumbers white about 9-to-1 in the above run.
There are also several cards that have color line variations on the card front. Most notably is the Ted Williams card which has either no line over his name or a thin green, red, blue, or yellow line between the white border for a total of five variations. Whitey Ford and Early Wynn also have no line or a thin red or yellow line. In addition, many team cards had 3 different variations with the team name either on the Left, Centered or Right.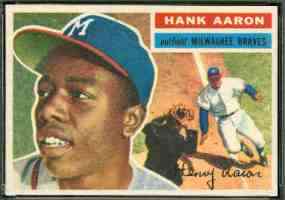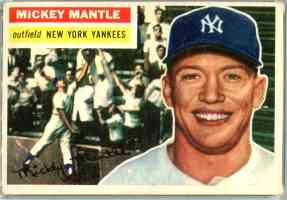 The only errors in the set are a handful of uncorrected errors the most famous of which is card #31 of Hank Aaron which actually pictures Willie Mays sliding into home. Card #135 Mickey Mantle is also an interesting card. The card pictures Mantle leaping high into the stands trying to catch a home run ball. The artist did a great job and Mantle makes the catch !!! An awesome play to put on this great card - right ? Only problem is that on the real play, Mantle missed the ball.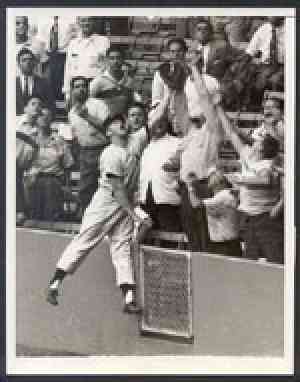 And as always for vintage Topps sets, take a quick look at Don Mossi and his famous ears !

Collectors of 1956 Topps should also take a look at their side issue '1956 Topps Pins'. In addition to their 1956 Topps baseball card set, Topps released their 1956 Topps Pins set using the same portrait photos as the cards. In the end, collectors of the day preferred cards to pins and Topps cut back the 1956 Topps Pin set from a planned 90 pins to just 60.
Click for complete 1956 Topps PINS Checklist and Prices



Click for complete