1968 was an awesome year for Topps test & oddball issues with Game cards, Player Posters, 3-D cards, Plaks, Discs, Punchouts and these "Baseball Action Stickers" also called "Action All-Stars Stickers".
"Baseball Action Stickers" were STAR-PACKED 3-panel sticker strips, some with facsimile autographs. There were (16) different strips in the set but only 12 are totally different. #13 thru #16 re-used panels from #1 thru #12.
Strips were perforated, folded at joints and put in packs.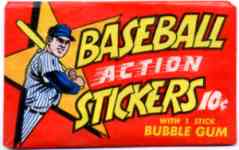 Boxes had 12 packs (10 cents each) with 1 sticker per pack. Sets could be made back then for $1.60. Today, the Mantle panel goes for around $2,000.

Collectors often collect just individual panels as complete strips are so scarce, fragile & EXPENSIVE. Single panels themselves are quite scarce - in 20+ years PSA has graded just over 200 TOTAL compared to over 1,000 1952 Mantles !!!

Click for complete