1960 & 1961 Fleer baseball card sets of old-timers like Babe Ruth bombed. Kids wanted Willie Mays & Mickey Mantle. Topps had rights to baseball cards & gum so Fleer tried something new ... COOKIES !!!
Cherry flavored cookies with 1963 baseball cards.

1963 Fleer baseball card set was cut short at 66 cards & checklist by Topps lawsuit. But what 66 cards! Attractive & packed: Clemente,Koufax... & 2 very scare Short Prints.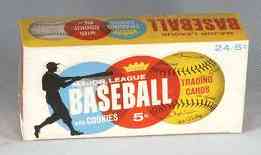 Maury Wills 'rookie' card is a story. Majors in 1959, quickly superstar. But 1963 for rookie ??? In 1959 Topps deemed Wills NOT WORTHY.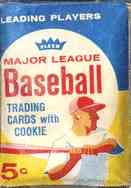 Wills was upset. After 1962 MVP, Topps came knocking but he said "NO!". Finally, 1967, Wills first Topps & most costly card. Note: 1961 Post Cereal card, years BEFORE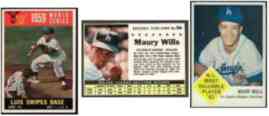 'official' rookie. He also photo-bombed a 1960 Topps card.

Disclaimer: Above mostly true - but Wills has said "no feud".


Click for complete