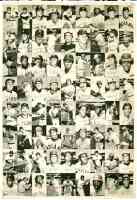 This scarce 72-card test issue set was released with very limited East Coast distribution making them quite scarce.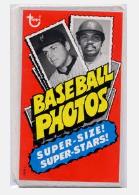 Officially simply called "Topps Baseball Photos", their serrated or "DECKLED" edge gave them the name they go by today. The 2 7/8" x 5" inch cards were sold in 2 card packs with gum or 3 card packs without for 5 cents.
Click to enlarge Complete Proof Sheet on left
Fronts are similar to b&w Exhibit Postcards from the 50's with photos and facsimile autographs. The backs make this very scarce test issue more interesting ! They feature handwritten script of player's name, team, position & date and location of the photograph as well as a mock newspaper article.
This was Topps 2nd "Deckle Edge" issue, their first being the smaller and more common 1969 Topps Deckle Edge inserts in 1969 Topps packs.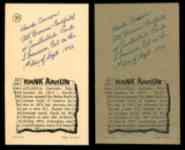 Variations of 1974 Topps Deckle Edge exist, making this issue more fun and challenging to collect. Backs can be found in gray or a much scarcer white. Also, more limited proof versions with non-scalloped edges exist and can be found with and without card numbers.

Click for complete