As 1977 baseball season was winding down, Topps wanted to sell more cards and released the "1977 Topps Cloth Stickers" test issue. The 1977 Topps Cloth Stickers set came in at (73) total cards: (55) cloth stickers and (18) checklist/puzzle cards that formed large photos of the 1976 AL & NL All-Star teams.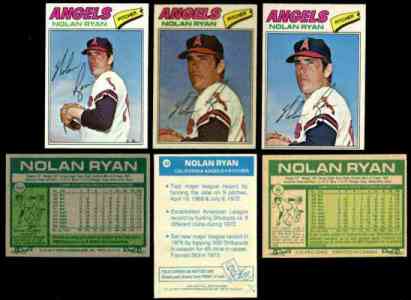 2 Stickers and 1 checklist/puzzle card were in each .15 cent pack with 36/packs in a box.
Nearly all fronts are same as the regular issue - with a few different like Nolan Ryan.
LEFT: Regular issue;
CENTER: Cloth Sticker;
RIGHT: O-Pee-Chee (from Canada).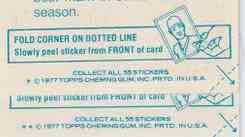 The 2-1/2" x 3" stickers had highlights & instructions on back. The backing was easily removed and kids could stick them everywhere ! TEACHERS LOVED THEM !!!

Packed with Hall-of-Famers (19 of 55) plus Pete Rose and Mark Fidrych. In addition, stickers & puzzle pieces came with one '*' or two '**' asterisks on back.

Click for complete