1968 Topps Action All-Star Stickers
Baseball Cards Set checklist/info
Another one of my favorite Topps test issues !!! In 1968, trying to catch the fancy of young collectors, Topps produced a set of "Baseball Action Stickers", often called "Action All-Stars Stickers". It was a big year for Topps test/oddball issues. Topps 1968 offerings also included Game cards, Player Posters, 3-D cards, Plaks, Discs and Punchouts.

The Topps 1968 "Baseball Action Stickers" set consists of 16 numbered 3-part vertical sticker panel strips containing individually removable, die-cut stickers; loaded with stars like Mantle, Mays, Aaron, Clemente, Seaver (2nd year), Yastrzemski ... While there are (16) different three-panel stickers in the set, only 12 contain totally different panels. Stickers #13 thru #16 mix and matched previously used panels making 36 different panels, not 48.

Each strip (15 3/4" tall and 3 1/4" wide) was made up of three 3 1/4 x 5 1/4 inch panels, perforated at the joints for separation. Each three-panel strip featured a large image of a star player in the center panel, with smaller pictures of three players on the top and bottom panels. Facsimile autographs accompanied the large sticker and some, but not all of the smaller stickers. The manila-colored, peel-able back is blank-backed. The full strip was folded along the 2 perforations and inserted into it's pack.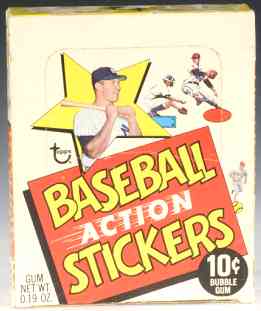 Sold in 1-sticker packs in 1968 with 12 packs per box; at ten cents a pack, sets could be put together for just $1.60. Today, if you could find them, a mid four figures or more would be needed to build a set. Today a complete 3-panel sticker with Mantle in the center commands up to $2,000 alone.
Complete strips with the 3-panels still attached are so scarce and fragile AND EXPENSIVE that collectors usually collect individual panels and the grading companies including PSA grade the individual panels.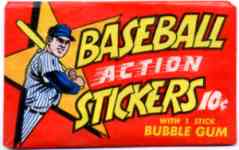 The single panels themselves are quite scarce and in the 23 years PSA has been around they have graded just over 200 of them TOTAL. That's less than 9 per year !!! The pop report is on the average of only 4 to 5 of each individual panel !!! To put that into perspective, PSA has graded 1,132 1952 Topps Mickey Mantles !!! Collectors who understand the concept of supply and demand know how cool these are and if you pass them by, it might be awhile before they pass by again.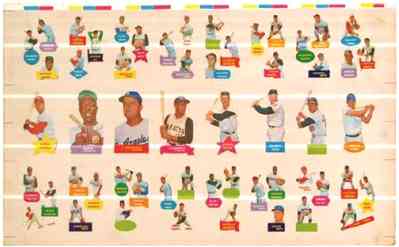 Proofs without the perforations have shown up over the years, usually from the Topps vault sale. Note - this proof sheet is missing the facsimile autographs.
Click for complete 1968 Topps Action All-Star Stickers baseball cards Checklist and Prices
Note: You may be on that page right now.

Click here for a larger image of the above proof sheet