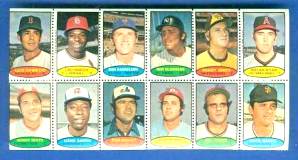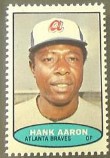 1974 Topps Stamps
The 1974 Topps Stamps set contains (240) 1x1-1/2 inch stamps, 10 from each team. The unnumbered stamps show the player's photo with name, team & position inside a colored oval near the bottom. Issued in horizontal 12-stamp panels (2 rows of 6), the panels came in different combinations of rows so there are actually 24 different panels (w/288 stamps) in a complete 1974 Topps Stamps panel set.
So player collectors - your favorite may appear on 2 different panels !!!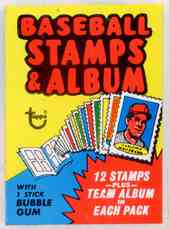 This issue was cursed with production problems. Centering is horrible with most panels having little or no border on one side or the other. In addition, perforations on most panels were not in the proper place.
1974 Topps stamps are easily confused with 1969 Topps stamps. With a somewhat similar player selection, the major difference is 1974's oval vs 1969's banner at the bottom. Also 1969 stamps came in both vertical & horizontal panels.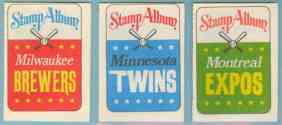 To store the stamps, Topps supposedly issued a set of 24 albums, one for each team. Each album contained a complete 10-stamp team set. I say "supposedly" because I've never actually seen one in person and the very few I've seen online often state "test issue" when describing them. ??? But there was supposed to be one in each pack ??? Where are they ??? The 1969 albums, also 1 per pack, are all over the place. I'm guessing they may not have actually been released.
The set is packed with SuperStars including over 23 Hall-of-Famers including greats Nolan Ryan, Hank Aaron,Johnny Bench, Ernie Banks, Pete Rose, Reggie Jackson, Al Kaline, Joe Morgan, Willie Stargell, Tom Seaver & more !!! Also making appearances are seldom seen ROOKIES of Dave Winfield and Dave Parker.
Click for complete 1974 Topps Baseball Stamps checklist and prices
Note: You may be on that page right now.
Click for complete 1969 Topps Baseball Stamps checklist and prices