1991 Cardboard Dreams Complete 16-card set.
PLUS Prototype cards #1 & #2.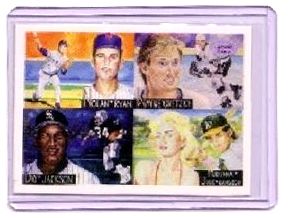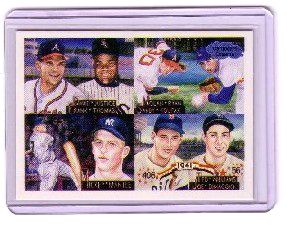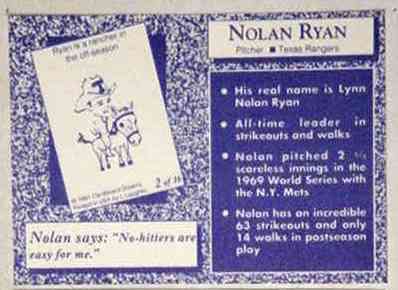 Great little odd ball set with interesting fronts and backs.
Cards were issued in 1991 as a promotional lead-in for an upcoming sportscard magazine to be named "Cardboard Dreams". The cards were given away at several Southern California and a couple of regional baseball card shows in random 1-card envelopes.
Unfortunately, shortly before the magazine's 1st issue, Major League Baseball and other agencies began several law suits against similar magazines. Before the dust settled, plans for the magazine were dropped leaving just the small run of promotional cards and a few color proof variations.
The set includes the following cards:


      SERIES 1                   SERIES 2
  #1 Willie Mays            # 9 Mickey Mantle                
  #2 Nolan Ryan             #10 Nolan Ryan & Sandy Koufax   
  #3 Tony Gwynn             #11 Frank Thomas & David Justice
  #4 Wayne Gretzky          #12 Brett Hull                  
  #5 Jose Canseco/Madonna   #13 Ted Williams & Joe DiMaggio 
  #6 Ken Griffey Jr         #14 Barry Sanders               
  #7 Bo Jackson             #15 Dan Marino                  
  #8 Michael Jordan         #16 Magic Johnson & Larry Bird  

Promo/Prototype #1 >> Nolan Ryan / Wayne Gretzky / Bo Jackson / Jose Canseco & Madonna
Promo/Prototype #2 >> Mickey Mantle / Nolan Ryan & Sandy Koufax / Ted Williams & Joe DiMaggio
                      David Justice & Frank Thomas

Click for complete