1954 Bowman Baseball
Competition between Topps and Bowman was raging back in 1953 and 1954 and led to problems in both companies sets. In 1953 Topps had 6 cards that were never issued because those players had signed contracts with Bowman. In 1954 Topps got revenge by signing Ted Williams to an exclusive contract. Bowman had to pull Ted Williams (card #66) from their set shortly after they started printing. They replaced Ted Williams with Jimmy Piersall (who also was card #210). The short printing of Ted Williams' 1954 Bowman card makes it one of the 1950's scarcest and most sought-after searched cards.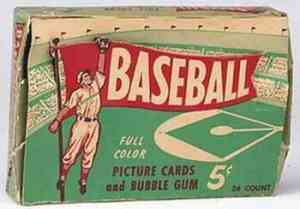 Bowman, perhaps distracted by the competition with Topps, created a set filled with errors & variations. Nearly 20% (40 out of 224 cards) had some sort of variation, with some even having more than 2 !!!
The St. Louis Browns move to Baltimore after the '53 season also made things interesting for Bowman. When the 1954 cards were designed, Bowman's artists had no idea what an Orioles jersey would look like - so they made them up.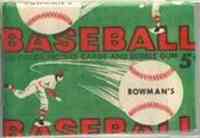 Through the years companies would try out various card numbering schemes. The 1954 Bowman set was made up of 14 cards for each of 16 teams. Cards were numbered in a rotation with all the cards of a single team being 16 apart. Example: the Yankees were card #1,17,33,49...
TOP ROOKIES: Don Larsen,Harvey Kuenn,Frank Thomas TOP STARS: Mickey Mantle, Willie Mays, Yogi Berra, Duke Snider, Roy Campanella, Whitey Ford, Phil Rizzuto ... Ted Williams was not considered part of a complete set.