1977 Topps Cloth Stickers
As the 1977 baseball season was winding down, Topps decided we needed more cards and released a baseball card test issue called "1977 Topps Cloth Stickers". The 1977 Topps Cloth Stickers set was made up of (73) cards, (55) cloth stickers of the 1977 season's top players plus (18) checklist/puzzle cards that when joined together formed 9-piece photos of the 1976 American and National League All-Star teams.
The stickers were sold in 15¢ packs with 2 players stickers and 1 checklist/puzzle card per pack; 36 packs per box.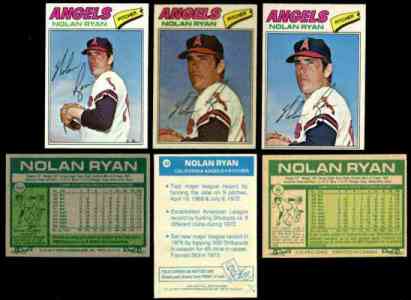 The fronts of the Cloth Stickers were basically the same as the regular issue with most of the photos identical - but there were differences including Nolan Ryan.
LEFT: regular issue;
CENTER: Cloth Sticker;
RIGHT: O-Pee-Chee (from Canada).
The 2½" by 3½" stickers were made of a light, sticky-backed cloth with a paper backing listing the player's career highlights and instructions on how to use the cloth sticker.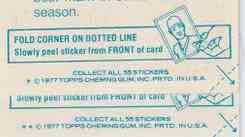 The backing was easily removed allowing the cloth sticker to be stuck on pretty much everything making them a teacher's favorite. Over the years, stickers may begin to separate from their backing. All 73 stickers & puzzle pieces can be found with either one '*' or two '**' asterisks preceding the copyright notice on the back.


HALL-of-FAMERS (19): Bench, Blyleven, Brett, Brock, Carew, Carlton, Hunter, Reggie Jackson,
Morgan, Palmer, Perez, Ryan, Schmidt, Seaver, Stargell, Sutton, Winfield, Yastrzemski, Yount
ALSO: Pete Rose and a scarcer Mark Fidrych ROOKIE card !!!
Dave Winfield (last game in 1995) was the last active player with a card in this set.