From the days when inserts were neat !!!

1966 Topps Rub-Offs have colorful, attractive pictures, which by rubbing the reverse side with a coin (quarters worked best), could be applied to surfaces like desks, books or walls.
A great items for kids - a nightmare for parents and teachers !!!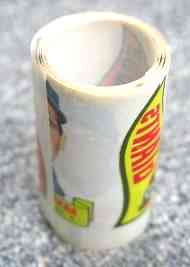 In 1961 Topps issued a similar item called "Magic Rub-Offs". There were 36 different in that set. Topps went way much further with their 1966 issue containing 120 different rub-offs (100 players & 20 team pennants). The rub-offs were released as inserts with one in each 1966 Topps wax pack.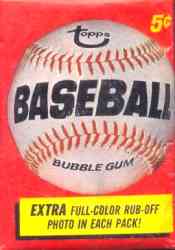 Each rub-off measures 2-1/6 inch by 3 inch and were printed in rolls with each roll containing numerous groups of 20 different.
A favorite use of the rub-offs for kids was to place one of the images on your bat. It was supposed to help you hit like the player. I tried it and it worked ! Unfortunately the image I used was Sandy Koufax who ended up batting .076 with no home runs in 1966.
SET DETAILS:
(5) Hall-of-Famers: Sandy Koufax, Juan Marichal, Joe Morgan, Frank Robinson & Ron Santo
(3) Team pennants: Astros, Cubs, Giants
Also: John O'Donoghue, Mickey Lolich, Pete Ward, Ed Kranepool, Cookie Rojas, Sam McDowell
Denis Menke, Tim McCarver, Mel Stottlemyre, Tony Oliva, Pete Richert & Bobby Knoop
Grades EX/MINT to NEAR MINT with just a little aging on the edges.