Free Vintage Baseball Cards for Auction Winners
All NON-SUPPLY orders over $25 can receive 10 FREE Vintage Hall-of-Famers baseball cards !!!

If your order is under $25 ...
Don't worry, you will get 2 FREE Hall-of-Famers anyway !

When completing your order, select one of the groups below by entering
"FREE GROUP #A" or "FREE GROUP #B" in the COMMENTS area.
FREE GROUP #A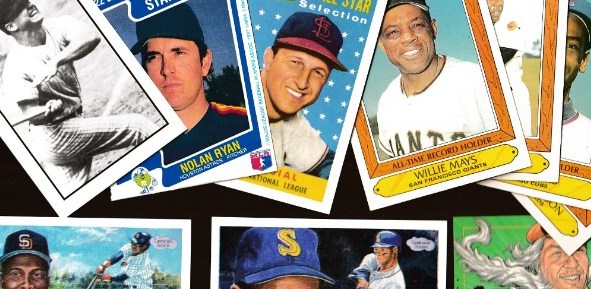 Ted Williams - 1985 Topps All-Time Record Holders
Stan Musial - 1991 Topps East Coast National PROMO card (1958 Topps)
Mickey Mantle - 1991 Cardboard Dreams art card
Willie Mays - 1991 Cardboard Dreams art card
Nolan Ryan - 1991 Cardboard Dreams art card
Tony Gwynn - 1991 Cardboard Dreams art card
Wade Boggs - 1986 Topps Glossy
Gary Carter - 1987 M&M's
Ryne Sandberg - 1987 Topps Boardwalk & Baseball
Paul Molitor - 1990 SCD insert


FREE GROUP #B


Nolan Ryan - 1986 Topps
Mickey Mantle - 1997 Mickey Mantle
Gary Carter - 1983 Topps
Reggie Jackson & Eddie Murray - 1987 Topps
Tony Gwynn & Andre Dawson - 1988 Donruss
Kirby Puckett - 1988 Donruss
George Brett - 1990 Donruss
Wade Boggs - 1986 Topps Glossy

FREE GROUP #C